"Another obscure SNES title that deserves a second look...or perhaps a first."
Kirby Super Star was released in 1996 during the last of the mainstream popularity of the SNES (even though it officially stopped in 1998 in the US). This and the classic Square/Nintendo co-production ''Super Mario RPG'' were easily the best of the last games on the SNES. Oh sure games like Kirby's Dreamland 3 and Street Fighter Alpha 2 were not bad but this is EASILY one of the best. This absolute classic is quite possibly one of the best ways how to make a great 2-D platformer thats easy to get into and immensely fun to play. One way you can describe this game is how to take the great game that is Kirby's Adventure and make it even better many times over. The premise in here is through 9 different games which are the main games that are Spring Breeze, Dyna-Blade, Gourmet Race, The Great Cave Offensive, Revenge of Meta-Knight & MilkyWay Wishes. And there are the 3 sub-games that are Megaton Punch, Samurai Kirby and ''The Arena''. (First two you start off with while the latter is unlocked after you've beaten all 6 regular games.) And unlike a good amount of the other games in the series even non-fans will most likely at least not come out disappointed in this one. eing one of the first Super Nintendo games I added to my library, I highly value this game for the countless hours of entertainment it has provided me. Sunset Riders was released on the SNES following its smash hit as a four-player Arcade machine. It was so successful in fact that it was then released again for the Genesis, the SNES' close competitor at the time. This awesome side-scroller is very similar to games like Teenage Mutant Ninja Turtles, except with a livelier beat and a faster pace. It really makes you feel as if you are a part of the action. I can seriously call this a "timeless classic" without a doubt. This game has been in my collection for nearly 10 years now, and even with all the new more technologically advanced systems like the PS2 or GCN, I still pull out my old SNES often to play this game.


Score: 9 out of 10

SNS-akfe-USA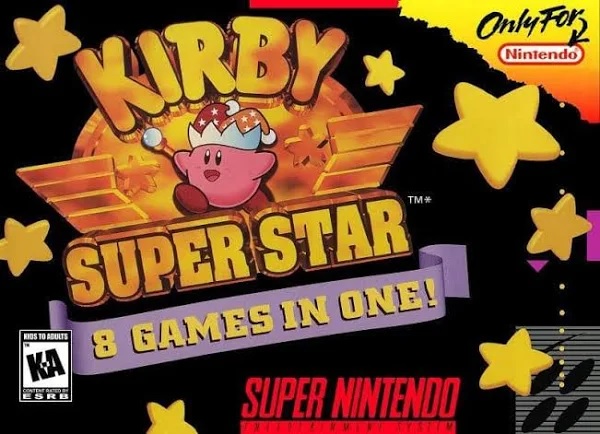 KIRBY SUPER STAR is a rare game that is a well known but should be tried and that is getting much harder to find anymore. I do have a copy on my web site.


VERY RARE CARTRIDGE FOR THE SNES AND IS MADE BY Nintendo

IT IS AN AWESOME GAME AND IS EXTREMELY HARD TO FIND ANYMORE. I SEE IT NOW AND THEN ON EBAY. I HAVE ALSO LINKED IT TO MY ONLINE STORE.

IT IS A GREAT ACTION GAME. TRY IT AND SEE FOR YOURSELF. IF YOU CAN FIND IT SINCE IT IS RARE.

WE HAVE FOR SALE MANY RARE NINTENDO SNES CARTRIDGES.
| | |
| --- | --- |
| Date Released | 1996 |
| Company | Nintendo |
| Rarity | 5/10 |
| Genre | Platform |
Do You Have Something to Say About This Game and Want to Post it to the Forum? Click the Hot Link to go to the Forum Section
ARE YOU LOOKING FOR A GREAT RARE NINTENDO SNES GAME FOR SALE? CHECK OUT OUR STORE INVENTORY. WE HAVE MANY NINTENDO SNES GAMES FOR SALE. MOST OF THEM ARE RARE AND ON SALE. SOME ARE NOT RARE BUT ARE STILL FUN TO PICK UP.
WWW.SUPERCLASSICVIDEOGAMES.COM IS AN ONLINE VIDEO GAME STORE THAT HAS MANY RARE ITEMS ON SALE. YOU WILL FIND MANY RARE NINTENDO SNES GAMES FOR SALE ON MY SITE. WE NOT ONLY HAVE THE RARE GAMES ON SALE, BUT WE HAVE THE FUN AN COMMON GAMES. IT TRUELY IS A GREAT ONLINE EXPERIENCE. IF YOU ARE INTERESTED IN AN ITEM THEN CHECK OUT MY ONLINE STORE. WE ACCEPT PAYPAL AND HAVE MANY ITEMS IN STOCK. WE HAVE MANY CHEAP VIDEO GAMES FOR SALE. ALL OF THESE ARE USED CLASSIC NINTENDO SNES GAMES EXCEPT A FEW. THEY ARE CLASSICS AND WILL PLAY ON YOUR CLASSIC NINTENDO SNES CONSOLE.